We are closed from 2pm on Wednesday 16th August as we will be holding our annual barbeque for our volunteers and wellbeing clients.
The Old Moat Garden Centre is part of Richmond Fellowship, a mental health charity making recovery a reality for thousands of people every year.
Every purchase supports our work
As a charity, all of our profits from the garden centre and cafe directly fund the wellbeing services we run.
You'll find all your garden essentials at The Old Moat; including a great selection of plants with many bedding plants grown on site.
Discover unique gifts and local products greetings cards, books, puzzles and toys, a fantastic range of soaps, candles and toiletries, and of course our fabulous café to enjoy.
What's even better, is when you shop with us, you'll feel good knowing your purchases directly support our charitable work, making a real difference!
Our Service
Our work based services help local people to gain confidence and skills to better manage their mental ill health, developing the independence to move into mainstream community activities and reach personal goals along the way.
For some people, this can lead into work & employment. For others, it can be simply managing tasks that many people take for granted; such as taking a regular bus journey on their own as simple as getting out of the house for a morning a week, The Old Moat supports people living with mental ill health to build confidence and skills and develop the independence to move into mainstream community activities.
Whatever their goals, our team of staff and volunteers support their journey towards recovery. To find out more about our wellbeing services and for referral information please click here.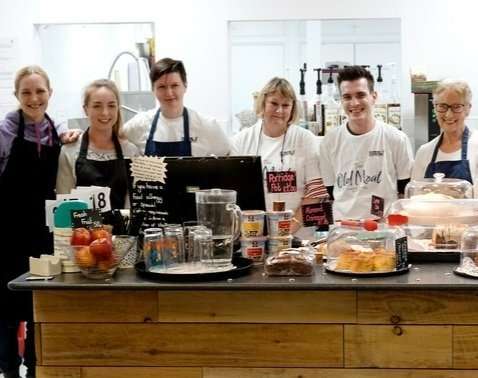 At The Old Moat, we currently support over 50 people on their recovery journeys.
Support Our Work
You can support our work in a variety of ways.
From popping in to do your shopping, enjoying lunch in our cafe, buying a raffle ticket or getting involved through our fantastic volunteer opportunities, your support is vital for us to be able to continue to offer our services.
Volunteering
As a charity, we would not be able to run our wellbeing service without the support and dedication of our team of over 50 volunteers. Our volunteers take on all sorts of roles, working closely to support people accessing our mental ill health wellbeing service.
Whether you are interested in volunteering in our vegetable and walled garden, helping with the running of our busy shop or making a difference to customers in our café, we'd love to hear from you. Either click the link below and apply to volunteer, or if you have any questions, email us.
Fundraising
As a self funding charitable organisation, we put all our profits back into the wellbeing service we provide.
We rely on generous support from donations as well as fundraising, grants and legacies to top up our finances; to enable us to maintain our service and enable us to further grow and seek out opportunities.
Cafe
Whether meeting friends for coffee, or treating yourself to lunch out, you're sure to find something to tempt your tastebuds in our cafe.
Serving hot and cold drinks, smoothies and milkshakes, you'll find mouth-watering cakes and pastries, perfect for an afternoon treat.
Our lunch menu includes paninis, hearty soup as well as seasonal recipes and specials, or why not pop along for morning coffee or a fresh cooked breakfast?
Our cafe is dog friendly, and also caters for a variety of dietary needs; with gluten and dairy free options available.
Many of the ingredients we use in our cafe are produced in our walled garden, grown by people using our service.
Our Homemade chocolate beetroot cake is a popular example of food made with our own produce and is made with fresh beetroot from our vegetable garden.